Battle of Chancellorsville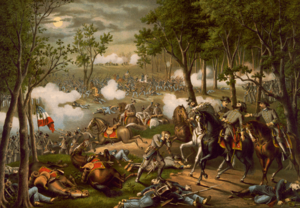 The Battle of Chancellorsville was one of the most significant military encounters occurring during the Civil War. During the time period of April 30 to May 6, 1863 in Spotsylvania, Virginia near the town of Chancellorsville, this battle was engaged between Union Army Maj. Gen. Joseph Hooker's Army of the Potomac and the Confederate Army of Northern Virginia with General Robert E. Lee at the helm.
In a bold and daring move, General Robert E. Lee decided to split his army, which was significantly smaller than that of General Joseph Hooker's, and gained victory in Chancellorsville.
General Lee's army was at a severe disadvantage because his army was half the size of Maj. Gen. Hooker's troops. However, General Lee went on to seize the day against the odds at this battle due to his decision to split his troops, claiming victory for the Confederates.
The Chancellorsville Campaign
The Chancellorsville Campaign entailed the Battle of Chancellorsville along with two other related battles in the nearby town of Fredericksburg. The crossing of the Rappahannock River by Major General Stoneman and his Union Army along with the initial raid against General Lee's supply lines began the Chancellorsville Campaign. General Joseph Hooker had plans to attack General Robert E. Lee and his troops from both the front and the rear. However, these plans did not succeed. With one bold and brazen decision, General Robert E. Lee chose to split his troops leaving the smaller portion of men to ward off the attack at Fredericksburg and the larger portion to defend against General Joseph Hooker's advance.
Against the advice of his fellow troop members, General Hooker conceded to General Lee's defense initiative. Against the odds and outnumbered, the Confederate Army claimed victory due to General Lee's bold decision to split his troops.
Thomas "J" Stonewall Jackson
In deciding to split his troops once again, General Robert E. Lee sent Thomas "J" Stonewall Jackson through the fields on a flanking march and victory was once again his. However, with that victory came tragedy. Thomas "J" Stonewall Jackson was accidentally shot by friendly fire. Days later, due to pneumonia, Thomas "J" Stonewall Jackson died. Along with the loss of Thomas "J" Stonewall Jackson were more than 10,000 Confederate soldiers during this battle. General Lee continued to launch several bloody battles from the position at Chancellorsville. Both sides encumbered huge losses. Finally, General Hooker withdrew what was left of his army ending the campaign once and for all.
This battle was the most significant of the Civil War because it resulted in one of the most successful battles of the Civil War that utilized less manpower and more strategic reasoning. With an army half the size of its opponent, the Confederate managed to keep the attack of the Union at bay by splitting its troop. This bold and brazen strategic move along with indecisiveness of the other party led to victory at Chancellorsville.